WNY Rodeo in the Sky: Saddle Up for our 10th Boogie!
Event Details
August 23, 2024

-

August 25, 2024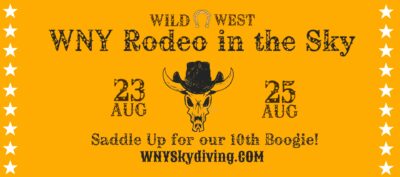 📢Save the Date: WNY Rodeo in the Sky📢
🏇🏻Saddle Up for our 10th Annual Boogie at Western New York Skydiving!🏇🏻
We're thrilled to announce the eagerly awaited 10th Annual Boogie at Western New York Skydiving, and this year, we're going full-on "Western"! 🤠✈️
Licensed Jumper Registration $125
Early Registration $100 through August 1, 2024.
Early Registration: Click Here 
Standard Registration (After August 1,2024): Click here
Schedule a Tandem Skydive during the WNY Rodeo in the Sky Boogie
Friday August 23rd: Click here
Saturday August 24th: Click here
Sunday August 25th: Click here
📅 Dates: August 23rd-25th, 2024
Get ready for a rip-roaring good time as we celebrate a decade of thrilling jumps, adrenaline-pumping dives, and unforgettable moments in the skies above WNY. The "Western" theme promises to transform our skies into a frontier of excitement, where jumpers become modern-day cowboys and cowgirls, soaring through the clouds with a Wild West flair. Whether you're making your first tandem skydive or you're a licensed jumper with thousands of jumps this weekend will be a tough one to beat.
🌵 Dust off your cowboy boots, don your Stetson, and join us for an epic weekend of high-flying hoedowns and sky-high adventures. Whether you're a seasoned skydiver or a first-time thrill-seeker, this is an event you won't want to miss!
🎉 Highlights of the WNY Rodeo in the sky include:
🌙 Thursday Pre Check-In & Night Jumps: Get the party started early and check in on Thursday! Pre Check-In will be available on Thursday August 22nd from 4pm-6pm. Following early check-in there will be a night jump briefing at 7PM. Night jumps will begin at 8:30PM and go no longer than midnight. To participate in night jumps Thursday evening, you must hold at least a USPA B License and have all the required night jump equipment (see SIM Section 6-4). You must also be registered for the boogie and make at least 1 day jump at WNYSkydiving on Thursday.
👗Friday Wild West Costume Party: Don your best Western attire and join the skydiving saloon soirée! As always, Friday night is our big bash! Lace up those cowboy boots and cinch up your spurs—get ready for a wild Western ride full of excitement and laughter!  It's time to show off your cowboy skills and team spirit with the Wild Western NY Relay.
🎬 Saturday Film Festival: Sit back Saturday night and enjoy the best of the Wild West on the big screen with our skydiving film festival. From daring dives to breathtaking views, witness the best of a decade in the skies. More details on categories and entry details to come!!
🔥Dinner & Drinks: Enjoy hearty dinners, refreshing drinks, and crackling bonfires provided Friday and Saturday night!
Mark your calendars, gather your skydiving crew, and prepare for an unforgettable weekend of high-flying excitement at the 10th Annual Boogie at Western New York Skydiving. Yeehaw! 🌟🏇