August 22, 2024 @ 7:00 pm

-

11:59 pm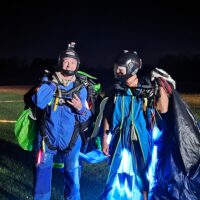 This year we've got 4 nights scheduled for night jumps! Dates subject to change based on weather and other factors, but these are the planned dates! Please note all these dates will require ground crew volunteers in order to proceed.
May – Saturday May 18th
July – Saturday 20th
August – Thursday 22nd (Early Boogie Check-In!)
September – Saturday 14th
The weekend prior to each scheduled evening of night jumps there will be a physical sign up sheet in manifest. If you wish to sign up, please do so no later than 2pm on the scheduled Saturday. In order to better prepare, payment for night jump loads will be made by 2pm on the scheduled Saturday and will be nonrefundable. If night jumps are cancelled by the DZ for any reason including weather, your slot costs will be returned to your account to be used on any future full altitude jump.
To participate in night jumps you must hold at least a B license. Everyone wishing to make a night jump must have made at least 1 jump during the day at WNYSkydiving, attend a night jump safety briefing, and come prepared with all required equipment. The dropzone will not provide strobe lights or any other lights for personal use during night jumps. Borrowing equipment is not always possible when we are turning loads. Be sure you have purchased your own equipment and come prepared! Additional guidance on night jumps can be found in SIM Section 6-4.
Night jump required equipment includes the following:
A light visible for at least three statute miles displayed from opening until the jumper is on the ground (an FAA requirement for protection from aircraft)
Lighted altimeter
Clear goggles/visor
Chem lights/glow sticks (traditionally red & green)