Water Training
Event Details
June 12, 2024 @ 12:00 pm

-

1:00 pm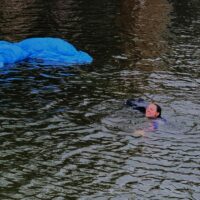 Water Training
Get ready to make a splash! WNYSkydiving is hosting essential water training on Wednesday, June 12th, from noon to 1 pm. Join us for a comprehensive session on water landings, focusing on crucial skills for handling unintentional water entries. This training is a vital step toward earning your USPA B license. Don't miss out on this opportunity to enhance your safety and proficiency in controlled water scenarios. Mark your calendars for June 12th! Don't forget to pack your bathing suit and a towel! Water shoes of some sort are also a very good idea.
For additional information on intentional water jumps & unintentional water landing procedures see SIM Section 6-5.
Why Do Water Training?
Water training is important for obvious safety reasons. The potential always exists for unintentional water entry due to spotting error, radical wind changes, malfunctions, and landing under a reserve rather than a main canopy. As such, proper training for these circumstances is vital. Water training must be completed by skydivers as a requirement for a B license. B license holders are able to exercise all A license privileges. Additionally, B license holders may perform night jumps. Upon completing at least 100 jumps, B license holders are eligible to take the USPA Coach Rating course.
Additional requirements for the USPA B license are listed below.
met all current requirements for or hold a USPA A license
completed 50 jumps including:

accumulated at least 30 minutes of controlled freefall time
landed within 33 feet of target center on ten jumps

successful completion of the planned formation(s) on ten formation skydives, or ten formation freefly skydives, at least five of which, in either discipline, must involve at least three participants
documentation of live water landing training with full equipment in accordance with the procedures in the Skydiver's Information Manual
complete all of the requirements listed on the USPA Canopy Piloting Proficiency Card
passed the written USPA B license exam conducted by a current USPA I, Examiner, S&TA, Judge or USPA Board member.