Tandem Instructor Rating Course (United Parachute Technologies)
Event Details
April 8, 2022 @ 10:00 am

-

April 10, 2022 @ 4:00 pm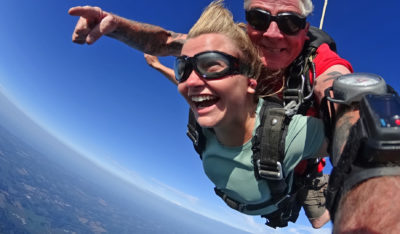 The tandem rating course will take 3 days, weather permitting. The course consists of two days of classroom with lots of practical training and correction of the written exam. There are 5 jumps in the course. One solo jump with the Sigma rig, one where you are the passenger and three evaluation jumps where you are the tandem instructor.
PRE-REQUISITES:
Must be at least 18 years of age
500 ram air jumps
Minimum of 3 years in the sport
USPA D license or foreign equivalent
Hold an instructional rating
Current FAA class 3 medical or foreign equivalent
Before the Course:
Complete USPA & UPT written tests (digital copy preferred)
Please bring copies the Following to this Course:
USPA or foreign membership card with D-license number and Coach or Instructor rating endorsement
Copy of a current FAA class 3 medical certificate or foreign equivalent
Logbooks showing 500 jumps and 3 years in the sport
Completed USPA & UPT written tests
Course Cost:
Course cost is $500 + slots, rig rental, and packing. To register for the course, please call 716-597-7393.