8th Annual WNY Skyvan Boogie!
Event Details
August 26, 2022

-

August 28, 2022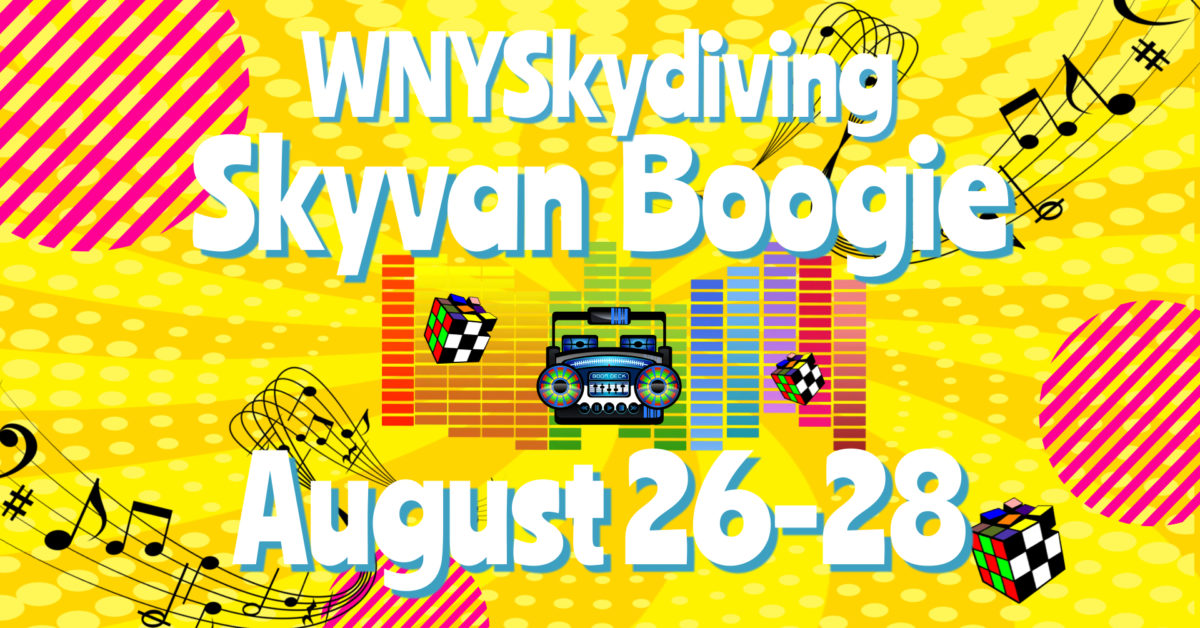 Boogie Weekend is our FAVORITE weekend and this year we're rocking an 80s theme!
TANDEM STUDENTS & FIRST TIME JUMPERS:
The event you've been waiting for is back! This year we will be flying both our Caravan and the Skyvan! The event will be held August 26-28, 2022. This aircraft holds up to 22 jumpers. You'll be jumping from over 2.5 miles above the ground. This is the perfect event for large groups. Don't worry, if you're the daredevil of your group of friends you can jump without a group too. Bring friends and family along to watch the show. Would you like to learn more about the WNY Skydiving Boogie and the Long Tradition that Precedes It?
MAKE YOUR RESERVATION TODAY!
Aircraft: Skyvan & Caravan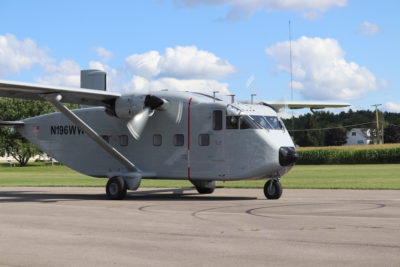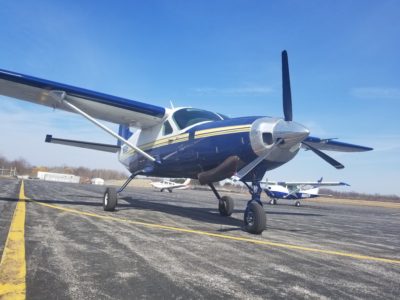 EXPERIENCED JUMPERS:
AAD's are required for all jumpers. Note that high-performance landings require a D license.
REGISTRATION: Normal Registration fee is $100. Early bird registration will be $75 and must be received NO LATER than August 1st. Registration includes: Boogie Shirt, Dinner & Drinks, Sexy Silly Relay Game, Karaoke and 80s Theme Party Friday night, Bonfires Friday and Saturday night, & camping all weekend. Feel free to bring your friends and family to the after-hours fun this year!
Registration Link: https://bookings.burblesoft.com/index/257/91?jump[]=551
Registration for Non-Jumpers: $100 / $75 if registered by August 1st! Registration is nonrefundable, dinner, parties and games are rain or shine. CAMPING: Tents and trailers welcome, no water/electric hookups available.
Organizers:
FS & Shenanigans – Steph Libby & Lisa Maly
Freefly – Kev Cantfly
additional organizers to be announced…
Entertainment:
Friday Night – Get ready to get wet and messy with our annual sexy silly relay fun!
Saturday Night – Flim Festival
Sunday Night – Karaoke night!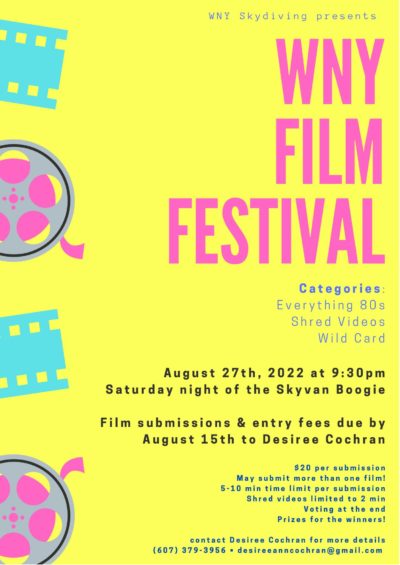 Film Festival Submissions: $20 per submission payable to Desiree Cochran (contact info below). Videos may be submitted by an individual or as a group. Multiple submissions allowed and encouraged!! The more entries, the more fun!
Submissions & Entry Fees Due: August 15th, 2022
Time Limits: 5-10 minute time limit per submission for "Everything 80s" and "Wild Card" categories. 2 minute time limit per submission for shred videos!
How to Enter: To enter, upload your video as unlisted on youtube and email the link along with your name/the name of your group and a blurb about your video to Desiree Cochran!
Voting: Voting will be done via a surveymonkey link at the end of the night. Be sure to vote for your favorites!
Winners: Prizes for winners based on total number of entries.
 Contact: Desiree Cochran
desireeanncochran@gmail.com