Free Parachute Packing Class
Event Details
March 26, 2022 @ 10:00 am

-

1:00 pm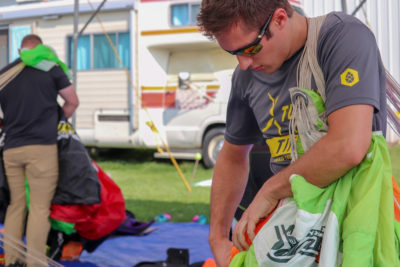 If you're current skydiving student or you're looking to start learning to skydiving this summer, this class is for you! On Saturday March 26th from 10AM-2PM WNYSkydiving is holding a FREE packing class! This will be the only free course of the season!
WHAT IS IT:
This parachute packing class will be a four hour course. Experienced skydivers, senior parachute riggers, and skydiving coaches and instructors from WNYSkydiving will introduce participants to the different types of parachute systems used by licensed skydivers, student skydivers, and tandem skydiving students. Participants will see packing demonstrations and have the opportunity to start learning to pack on their own.
WHEN IS IT:
Saturday, March 26th at 10:00am until 2:00pm. Out of respect for all participants and to ensure an on time start, all participants are asked to arrive no later than 9:45am.
WHO MAY PARTICIPATE:
Individuals who have a desire to learn more about skydiving or become a licensed skydiver should take advantage of this class. A large portion of learning to skydive is familiarization with skydiving equipment. There is no better way to become familiar with your gear than by packing! All participants must be at least 18 years of age and be in reasonably good athletic condition.
OTHER REQUIREMENTS:
You DO NOT need any prior skydiving experience in order to participate in this course. In order to better prepare for this course, WNYSkydiving will be providing some video and other resources for participants to familiarize themselves with prior to arrival at the course. Materials will be sent to all participants on March 1st.
REGISTRATION: FREE Parachute Packing Course Tickets, Sat, Mar 26, 2022 at 10:00 AM | Eventbrite
Due to limited availability, please only sign up if you absolutely plan to attend as not to deny someone the opportunity. Should you need to cancel, please do so 7 days in advance in order to accommodate individuals on the wait list.