2020 Free First Jump Course
Event Details
May 16, 2020 @ 10:00 am

-

4:00 pm
Learn to skydive
Back by popular demand, WNYSkydiving will be hosting a FREE First Jump Course again this year! The course will be held on Saturday, May 16th, beginning promptly at 10:00am. Check-in and paperwork will be at 9:45am.
This is the best time of the year to learn to skydive. The entire season lies before you, with weather only improving as the season progresses! Don't wait to sign up! This course will fill up quickly!
**This free course DOES NOT include a jump following the classroom training.**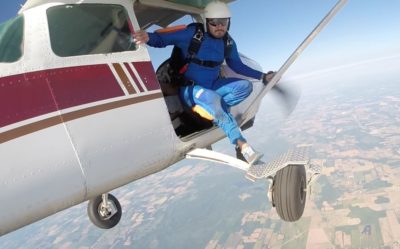 WHAT IS IT:
The First Jump Course is a six hour ground school training program which prepares individuals to become licensed skydivers. This comprehensive course teaches the fundamentals of skydiving. This includes correct free fall body position, flying and landing a parachute, managing emergency procedures, and much more. The value of this course is $100! It is being offered to the first 15 who register at no charge! This free course DOES NOT include a jump following the classroom training.
WHEN IS IT:
Saturday, May 16th at 10:00am until 4:00pm with a lunch break from 1:00 – 1:30.
Please note that this is a full day course. Out of respect for all participants and to ensure an on time start, all participants should arrive no later than 9:45am.
LUNCH:
Please bring a water bottle and a snack and/or a lunch for this event. There will be a microwave and fridge available. There are also delivery options available (provided upon request at check-in) for lunch.
WHO MAY PARTICIPATE:
If you have a desire to learn more about skydiving or become a licensed skydiver, this is the course for you! Take advantage of this class to save $100. All participants must be at least 18 years of age. The weight limit for this course is 235lbs and all participants must be in reasonably good athletic condition.
OTHER REQUIREMENTS:
You DO NOT need prior jumping experience to participate in this course. This course is prepares participants to take the first step towards becoming a licensed skydiver. In order to better prepare for this course, WNYSkydiving will be providing some video and other resources. Participants should take time to familiarize themselves with this material prior to arrival at the course. Materials will be sent to all participants on March 1st.
Due to limited availability, please only sign up if you absolutely plan to attend as not to deny someone the opportunity. If you need to cancel, please do so 7 days in advance. This allows WNYSkydiving to accommodate those on the wait list.
SO WHEN DO I JUMP?
When you actually jump depends on your schedule and availability! If you haven't jumped yet, WNYSkydiving recommends two tandem jumps prior to making your first AFF jump. Give us a call at 716-597-7393 to discuss planning your jumps before and after this course! Our staff will be happy to help you schedule your jumps!